Application Migration Services
Is Your Current Platform a Dead End?
As software platforms and standards march inevitably forward, it is easy for your software to be left behind.  And as support for those platform wanes, all aspects of your application become jeopardized: from UI obsolescence to security holes.
We have the tools and expertise to help.  We can update your UI to a new, faster, responsive design with world class UI elements.  We can move your application to Microsoft MVC and use our tool box to bring all aspects of your code up to speed.
We'll Bring You Forward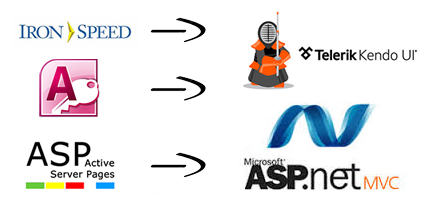 Iron Speed Designer Migration
With the sad news that Iron Speed will be ceasing operations by the end of 2015 comes the imperative to migrate existing Iron Speed Designer projects to a supported platform.  We have chosen to pursue a migration path to Microsoft MVC with the use of Telerik Kendo UI. We at Logical Developers are extremely familiar with all aspects of Iron Speed Designer and are licensed from version 3.1 through the current and final version 12.2.   If you have an Iron Speed Designer application that needs to be migrated to a supported platform, we are uniquely qualified to be of help.  Through the use of our exclusive Iron Speed Designer to MVC Converter, we can help your organization migrate your project while minimizing costs.

Microsoft Access Migration
With more than a decade of experience in migrating Microsoft Access applications to ASP.NET web applications, we have huge number of such projects under our belt.  We'll analyze your Access application and migrate it to the web with ASP.NET.
Other Migration
With our decades of collective experience in such technologies as legacy ASP, PHP, Perl, etc., we have the know-how to bring your application into the present and beyond.  Let us know how we can help.